A bank holiday offers the perfect chance for the first warm weather get away of the year. Spring wafts in with the promise of summer bursting forward, and a trip to the mountains makes it extra special.
Being at Scafell Pike for a few days really does liven the senses. There's something about this rugged and huge landscape that brings busy lives back into focus and centres a family on the important things. Whatever the size and shape of your family, there is a peaceful and enriching experience waiting for you at Scafell Pike and the surrounding area.
While climbing and hiking doesn't suit every family, there's no denying this is as close to raw nature as you can get. Being so in touch with the land in its most dramatic form is a humbling experience. But if your family includes little ones there are other ways to get back to basics and you can even incorporate some education. A nature trail is one of the simplest things you can do with young children at Scafell Pike. Add sketch pads and pencils and you have an enjoyable, satisfying way to spend a few hours. Let the kids really appreciate the beauty of the mountain by sketching it, or focus on smaller details in nature like wildlife and plants. Equally, take a couple of cameras out with you on a walk and let the kids get snap happy with the scenery. The results will be surprising and delightful to the whole family. You might not be expecting photographic excellence here (unless you have some budding artists in your camp), but this is an interesting and fun way to spend the day which can unleash some creativity and let nature be seen in detail. See more nearby activities to Scafell Pike.
When everyone gets hungry, unwrap a picnic and sit down in the heart of the land with this magnificent peak as your backdrop, or stop off at the Inn at close-by Wasedale and break the day with good food and ales. Wasedale itself has some interesting features, including one of the smallest churches in England. There is a large variety of places to eat near Scafell Pike, you'll easily find a spot to rest and re-energize.
For older children biking is always a good way to see the area, or a leisurely walk can be relaxing and a great way to recharge batteries and breathe in the fresh Lakeland air.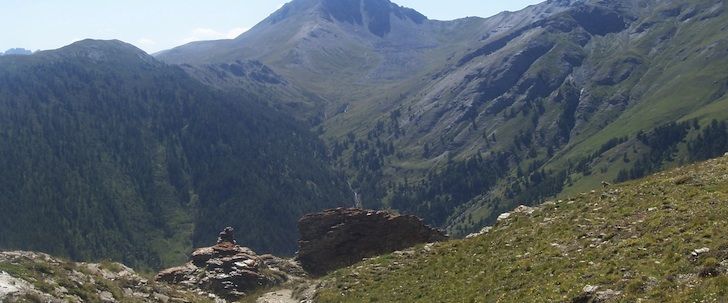 You can easily spend the bank holiday weekend based around Scafell Pike, but if the family gets itchy feet, the surrounding area has some activities to keep everyone happy. A few miles away is Muncaster Castle, supposedly haunted, with playground, café, shops and an owl centre. Also a few miles away is Honister Slate Mine. This working mine now runs tours, explaining the history of the mine and how the slate is extracted today. A little further afield are the popular destinations of Windermere and Ambleside, where you can shop, take a rowing boat out on the lake, or eat ice-creams amongst some of the most breath-taking scenery you'll ever see.
With endless possibilities open in this most beautiful part of the country, Scafell Pike dominates the landscape and draws you towards it. The May bank holiday for example is a time of rebirth and new beginnings, a whole summer lying in the new future and fresh air and bright days in the here and now. What better place to spend it than at Scafell Pike?
If you're planning a trip to Scafell Pike, we've created an all you need to know, in our Families Visiting Scafell Pike page!
Make sure you also have all the essential equipment for your trip, not only so you can easily find your way around Scafell Pike, your family stays safe but also your feet still work after day 1!