If you're a frequent visitor to Scafell Pike, you might well have heard of a new film in the making called "The Life of a Mountain: Scafell Pike" which is currently being filmed by Terry Abraham.
Terry is an accomplished film maker, with The Life of a Mountain: Scafell Pike coming off the back of his previous critically acclaimed film: "The Cairngorms in Winter with Chris Townsend". He has kindly agreed to do an interview with ScafellPike.org.uk to give us a glimpse into the man behind the camera, and the reasons for shooting the film.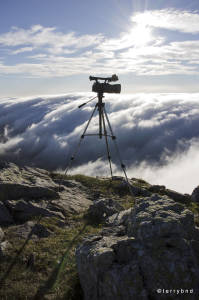 SP: Tell us more about yourself and your background.
Terry: There's not much to tell really. I'm very much the average guy you'll meet in a pub to be honest. I'm sociable, but equally happy in my own company. I adore my family and love real ale and good old fashioned pubs with a passion.
I grew up on the outskirts of Sherwood Forest in Nottinghamshire and have many fond memories of my grandfather, who was a gamekeeper and farmer, taking me outdoors. Alas, that rose-tinted view of childhood sadly ended when my parents divorced and I moved from country to urban living.
I still hanker back to the old days of peace and space that village life affords and I suppose that has it's influence on me now.
Bar that, I've always had an interest in film. After a serious health scare a few years ago it put a rocket up my rear and so I began to take my hobby of backpacking and video much more seriously. I wanted to see more of the UK and share the sights I saw with folk online. Wonders of the internet eh?
SP: Where did your passion of hiking start?
Terry: When I was a young boy I'd often spend much of the day wandering the fields and forests on my own. I enjoyed exploring, climbing trees and making dens. I got such a thrill from nature and the sights our delightful countryside affords. I'd happily walk miles with my dogs and thankfully my mother never restricted me on this. I guess it would be a bit different in this day and age!
I made my first visit to the Lake District when I was 13. Somewhere around Ullswater in fact and it hit me like a thunderbolt. I looked up in awe at the fells and was desperate to slip on my boots and race up the steep rocky slopes and explore. I have vivid memories of that first trip and it still makes me smile to this day.
I think it was in my mid-20s I chanced upon some outdoor magazines and learnt that when I chucked kit in a bag and camped outdoors freely it was called 'wild camping'. It was a bit of a revelation for me. I hadn't a clue clubs never mind other like-minded folk took joy doing the same thing. Consequently, I swapped much of my bulky and out of date gear with all what modern gear manufacturers produce. Wild camping became somewhat (and still is) an obsession of mine. For me it's the only way to enjoy the outdoors and feel in tune with your surroundings – in good and bad weather, whatever the season.
SP: You've got some absolutely stunning photographs on your website, which you took yourself. For the photo geeks out there, what sort of equipment do you use?
Terry: Thank you, you're too kind. In my teens and early twenties I worked a lot in illustration and was considered a very talented artist. But I lost all interest in it being distracted with the joys of youth. I suspect it's that eye for composition or a pretty picture that helps me with my photography and video. It's arguably much more challenging too. An artist can create an impression of a scene, whereas photography you have to be there at the right time. Of course the term 'photoshopping' gets banded about a lot nowadays and deservedly so! Too many photographers have become artists with a camera in my opinion, often over processing images that really didn't exist at the time.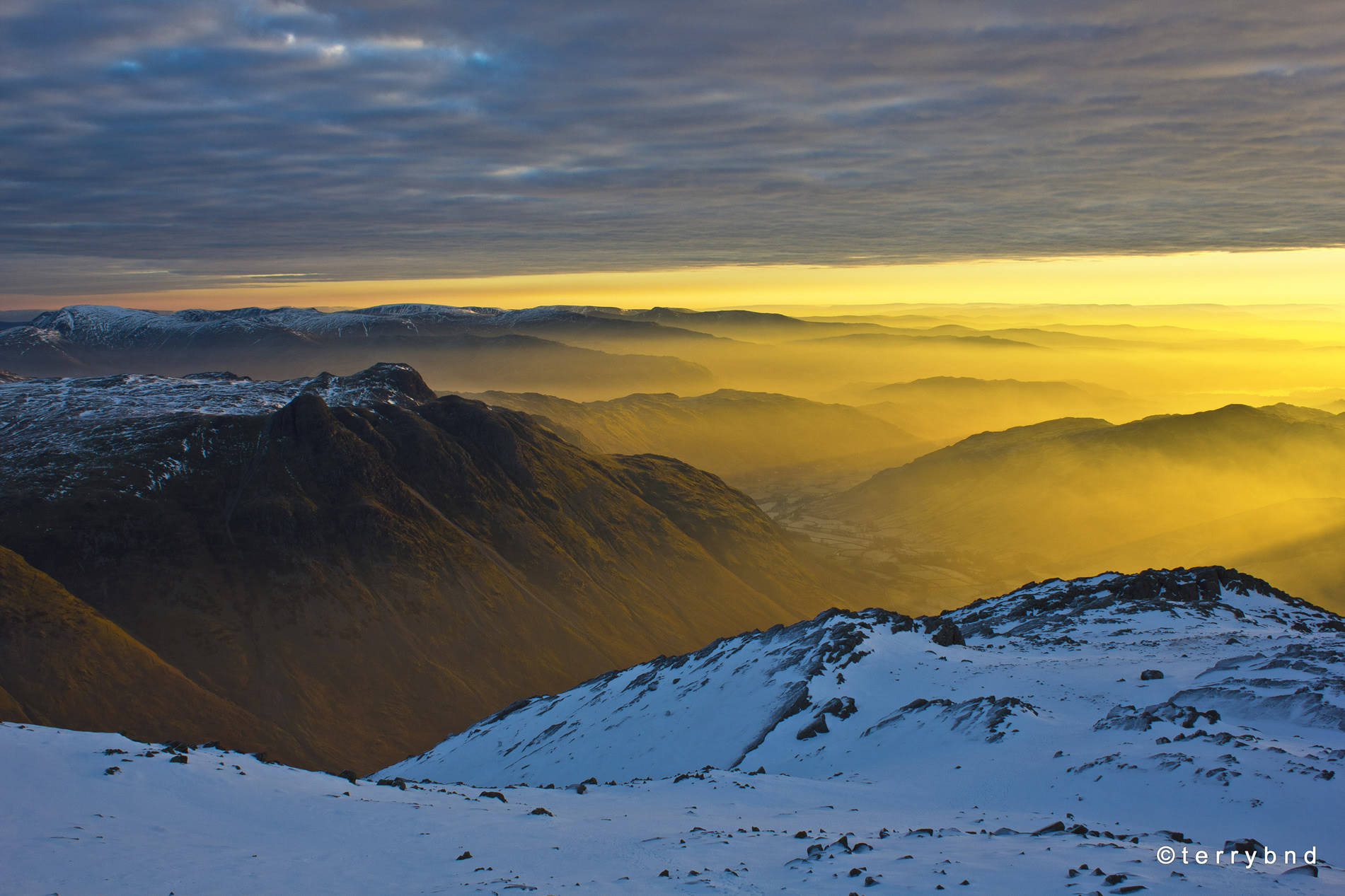 I thrive on the challenge of capturing those special moments in the hills for real. Sights we can all see at a given time and moment. The real deal. I would say my photography isn't that special, and is only born out of my video work, which you can't fake at all (unless I had access to a Hollywood studio!).
I'm a big believer in that it's not the tools, it's the craftsman when it comes to things like photography and video.
Even so, my current choice of camera is a Canon EOS M. It's not perfect by any means, but it affords an APS-C sensor and various manual controls with the option of various lenses in such a small and light combination. Ideal for me when I'm out backpacking for several nights. Some photographers will sneer at that. Rightly so to some degree. But given the camera's shortcomings it does all I need it to do with my work. And that's what really matters. To me at least!
The rest of my gear compromises of video gear. At least two tripods, the video camera itself and so on. My pack sadly weighs quite a few kilos before I even stuff in my camping gear and food.
SP: Does anywhere else in the world compare to the Lake District?
Terry: I wouldn't know! Of course I've visited other places outside of the UK but not often. I do enjoy visiting France for example. I love the countryside that's out there. Much like Britain in fact but on a bigger scale, larger distances between areas and less people.
But as far as I'm concerned Britain has some world-class scenery. There's no doubt about that. And all in easy reach for most people.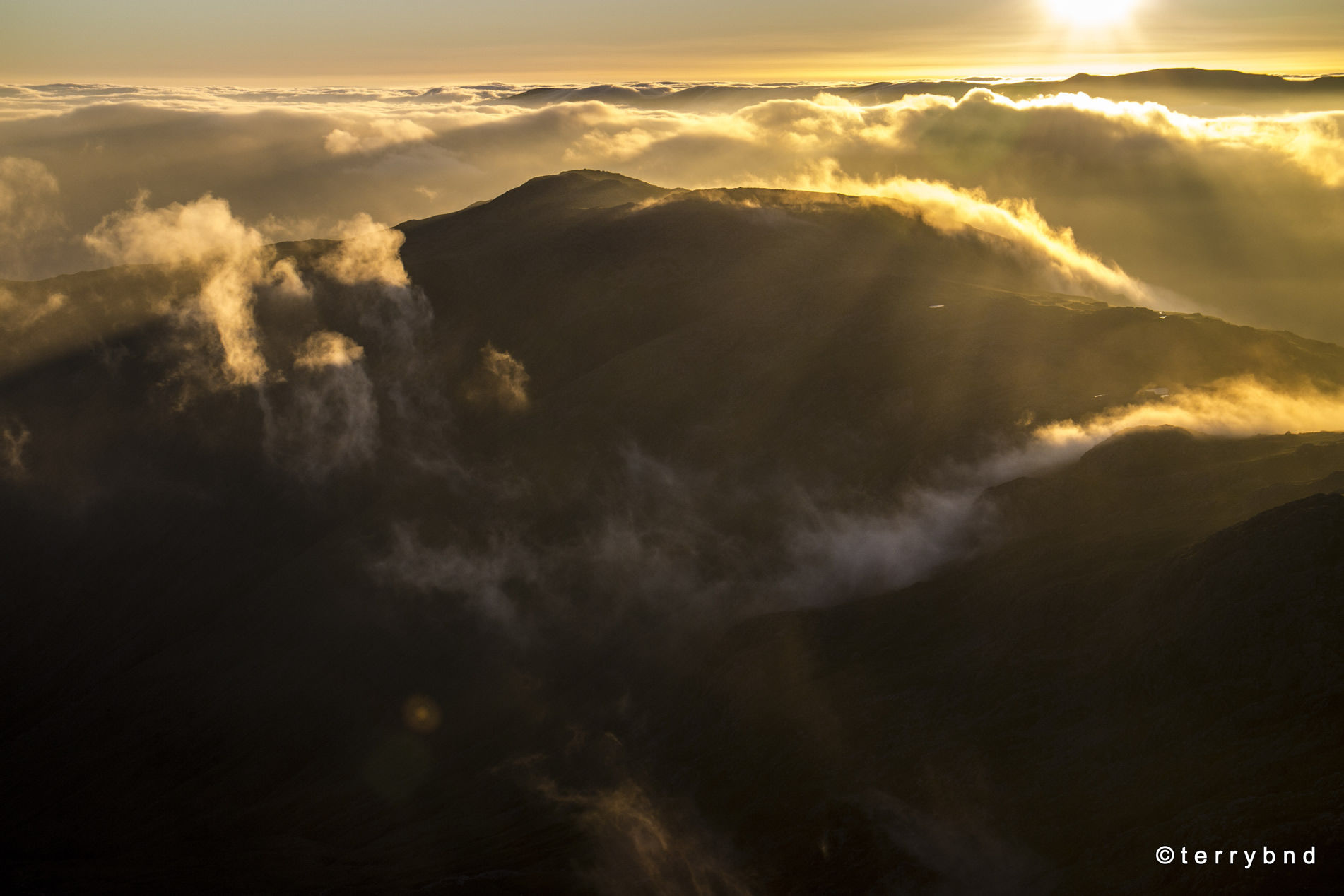 As much as I love many places in the UK the Lake District is my favourite. I feel it's my spiritual home. It ticks so many boxes that make me love the outdoors. I love the intimacy of the landscape in the Lakes but the 'sense' of wilderness it affords too. I love the people, the culture, history and many pubs which serve local ales and locally sourced foods! The changing of the seasons which are so obvious in Northern England make the Lakes a special place for me too.
Sadly for many urbanites the changing of the seasons appears minimal. You get to see it all in places like Cumbria. That excites me. There's never a dull moment.
SP: If you could recommend one route, or photo opportunity on Scafell Pike, where would it be (and what time of day do you need to capture it)?
A:  In truth, I don't think Scafell Pike affords any particularly great view. Much of the Scafells in my opinion. However, I do think Scafell, Great End and Ill Crag do give some wonderful vantage points.
For me the best views are from elsewhere looking to the Scafells or from it's lower flanks. It's a cliche but I find the Corridor Route to be always a joy. And detouring off that to the little-visited hanging valley behind Round How. As an accessible route that would be my favourite.
But if one isn't needing to be 'there and back in a day' then I find the best route up the Pike is from Great Moss to Mickledore via Cam Spout Crag. It has everything.
As for a photo opportunity? I have two favourites. Both to be enjoyed in winter at dawn or sunset. The view from Bowfell and another on the flanks of Esk Pike as it drops to the Great Moss. These offer the most interesting of pictures of Scafell Pike in my opinion. In winter the contrast of the snow on it's craggy slopes and cliffs are kissed beautifully by a setting or rising sun. On some evenings the whole of the Scafells look like a volcano that's come back to life. It's a really epic scene and you get totally immersed in it and forget that not too many miles away, lie farms, hamlets and hostelries.
SP: Tell me more about your latest film in the making: "The Life of a Mountain: Scafell Pike". Other than the natural beauty, what inspired you to go as far as creating a film about it?
Terry: Watching most outdoors-based programmes or DVDs frustrate me as a wild camper. The film crews clearly turn up on a given day, shoot, and go home such is the nature of their work. They just never reveal the landscapes at their very best.
For me, I want to see those sights as a viewer but also knowing I could as a wild camper. And it's that, that drives me on to capture the Scafells looking their very best. Sights any one of us can see. No Hollywood special effects, the real deal. But as much as I think it will be fascinating to see the Scafells change through the seasons in a documentary, it's important we see the culture and history of the place. The people who live and work by the fell and care for it too.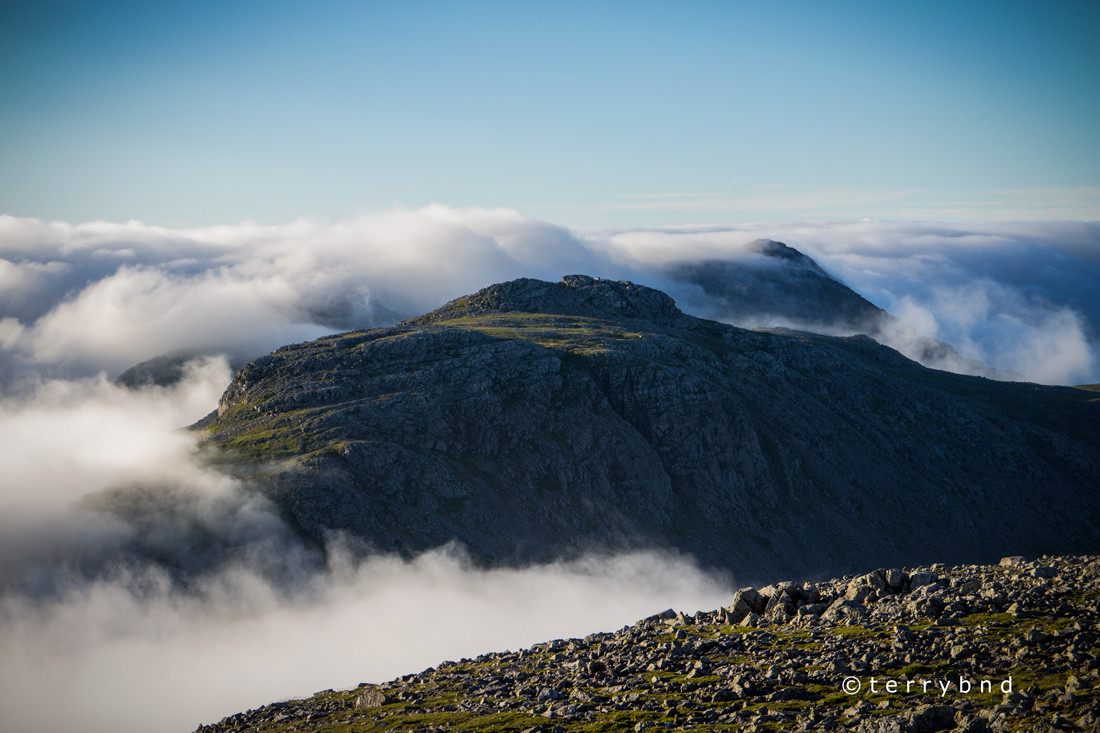 This is a film as much as about the people in my mind's eye as it is about the beauty of the area through the course of a year.
It's certainly something I've always wanted to see, and now I'm the one going out there executing that idea. Uncanny eh?
SP: How long has it been in the making?
Terry: Crikey, tough one that. I began in December last year but the majority of the filming has taken place this year from May. I've spent more time out around the Scafells than I have in my own bricks and mortar home! But I need to be out there as much as possible. Namely down to the weather, but also meeting people when it suits them and also the time it takes to wander about the place on foot with all the kit I carry!
SP: What do you hope to achieve by releasing it?
Terry: I hope to inspire, entertain and enlighten viewers to the area. Both newcomers and veterans alike. I want to show how fascinating the area is as the seasons change, and give insight to the people who care for the area.
For example, the local National Trust teams work so hard on caring for the Scafells that it's often underappreciated by the masses. Most folks don't see them. But that's not because they're not there. They'll often be working in remote parts of the fells. Be it restoring some wonderful moor, or restoring badly eroded tracks.
And I guess I'd like to bring back the romance of such places. The awe of their power and beauty that so inspired the Lakeland poets. I feel much of that has diminished in our day and age and I want to bring that back! It deserves it.
SP: Have you got a release date yet?
Terry: Indeed. The film is due to have it's premier on the IMAX screen at the Rheged Centre, 7.30pm Saturday 10th May 2014.
SP: What's next for you?
Terry: No idea. I've not got anything planned yet. My focus is solely on 'Life of a Mountain: Scafell Pike'.
In a literal sense, I'll be filming the Wasdale Show soon and following the Wasdale Mountain Rescue Team. I'm very much looking forward to that.
Summary
Thanks to Terry for doing this interview, especially when time is at a premium for you. From the snippets you've released, it looks like a masterpiece in the making and I'll certainly want to be notified of the release so I can get my hands on a copy!
If you want to help Terry with this production and to be a part of the creation of the film, then please consider investing in the project by visiting Terry's Indiegogo fund raising page here!
Check out the 'teaser' clip below for glimpse into what the final production of The Life of a Mountain: Scafell Pike will bring to our screens!