If you are considering a walk up Scafell Pike, this is the best place to start.
Towering at 3209 feet high, the summit of Scafell Pike in the heart of the Lake District is England's tallest mountain, making it a magnet for climbers and sightseers alike.
Scafell Pike has something for everyone
To the intrepid walker, the challenge of climbing England's highest peak creates an irresistible lure, drawing people from all walks of life and all corners of the globe.
For the more recreational rambler and sightseer, the mountain provides a spectacular backdrop to leisurely walks or picnics around the valleys of Wasdale and Borrowdale. Even for those who prefer not to stray from the car, it is still possible to get close enough to feel the mighty presence of Scafell Pike and the many surrounding Lake District mountains.
For those who undertake the climb and reach the summit, the sense of achievement is well deserved, and the effort is rewarded with magnificent views encompassing all four nations of The British Isles.
For those seeking a less challenging experience, including families, couples, and even the solo traveller, there is a great variety of things to see and do around Scafell Pike. From quiet romantic walks, family picnics beside meandering rivers, natural attractions including cascading waterfalls and imposing rock formations, or quaint traditional market towns to explore at leisure.
The valleys below
The remote and scenic valley of Wasdale lies immediately to the west of Scafell Pike, and many people start the climb from here. At the heart of the Wasdale Valley lies Wast Water, England's deepest lake at 258 feet deep. See Scafell Pike from Wasdale Head.
To the north of Scafell Pike, the Borrowdale Valley runs from the market town of Keswick along the shores of Derwentwater, one of the prettiest of all the lakes, toward the small farming community of Seathwaite, another popular start point for ascending Scafell Pike (see: Scafell Pike from Borrowdale) but also with much easier low level walks along the valley.
Year-round destination
Each season brings its own distinct feel to Scafell Pike. In summer, the area bustles with holidaymakers engaging in all manner of activities on the mountains and lakes, while others take in the scenery at a more leisurely pace. Spring and autumn are quieter, and the autumn colours can be especially fine indeed. In winter, crisp clear days can be breathtakingly beautiful, but a word of warning – this is not a time of year to be climbing Scafell Pike unless you are fully trained in the specialist skills of winter mountaineering.
Enjoy it however you choose
The popularity of Scafell Pike is reflected in the great variety of holiday accommodation on offer nearby, from campsites to guesthouses, forest lodges to luxury hotels and spa resorts; so whatever your preference and budget, it's easy to organise a visit to Scafell Pike.
And with so much to see and do in the local area, it's sure to be a destination which will appeal to everyone.
Quick facts about Scafell Pike
Scafell Pike is the tallest mountain in England measuring 978 m (3,209 ft) high.
Scafell Pike is home to the highest standing water in England, known as Broad Crag Tarn. It lies at about 820 m (2,700 ft), a quarter of a mile south of the summit.
Scafell Pike's original name was 'The Pikes of Sca Fell', and this term was used to describe Broad Crag and Ill Crag, as well as Scafell Pike itself. The change was caused by an error on an Ordnance Survey map and stuck. The Scafell Pike OS Map sold today is, however, completely accurate.
Scafell Pike was donated to the National Trust in 1919 by Lord Leconfield. This gesture was made to honour the men of the Lake District who lost their lives fighting for their country in the First World War.
The deepest lake in England lies at the foot of Scafell Pike and is called Wastwater. It measures three miles long, just over half a mile wide, and a staggering 258 feet deep.
Estimated driving times to Scafell Pike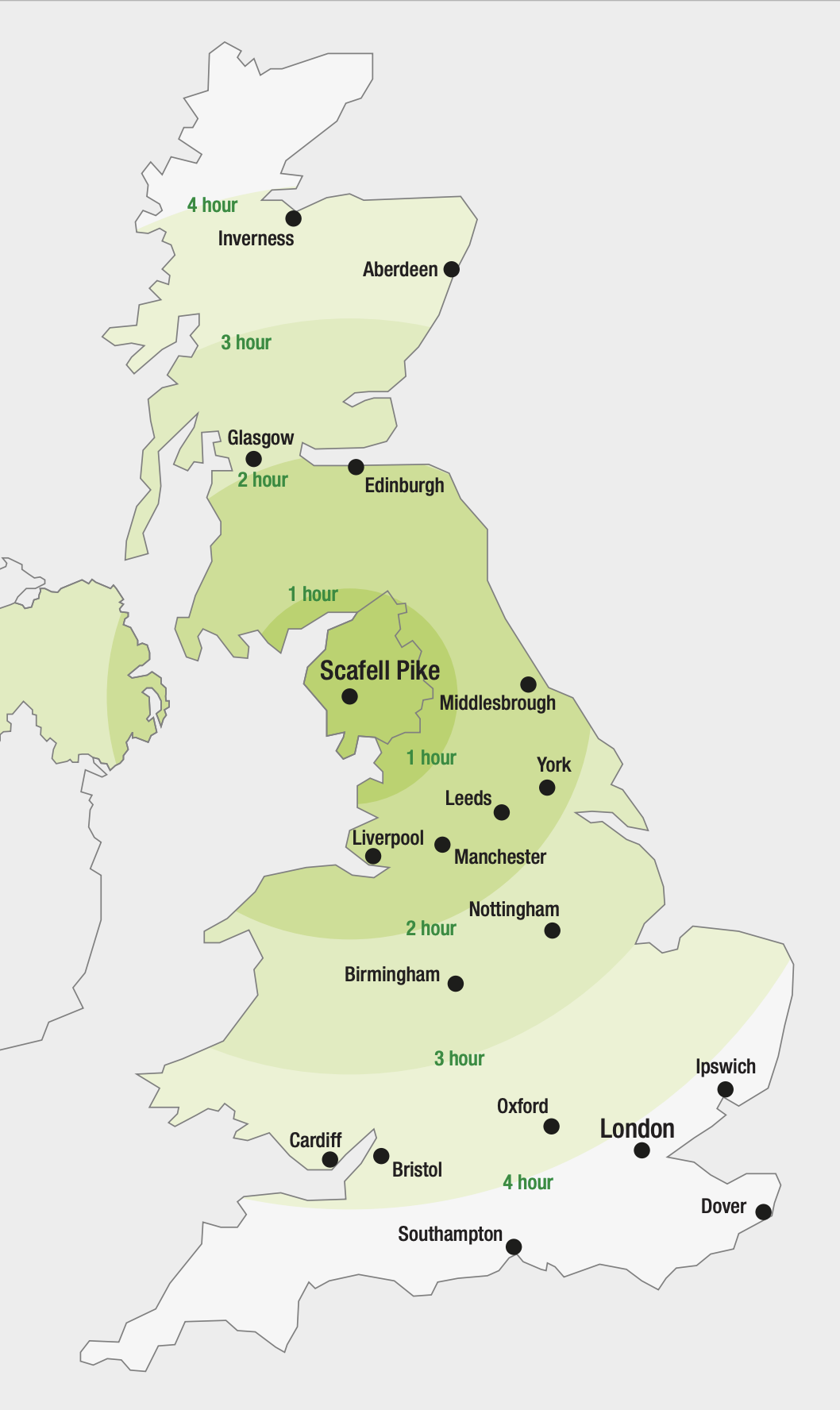 Frequently Asked Questions
How long does it take to climb Scafell Pike?

How long it will take you depends on a number of factors. For example, which route you pick, how fast you walk and the weather on the day. However, most people can comfortably climb Scafell Pike and return to their start point within a day.

How high is Scafell Pike?

Scafell Pike is the tallest mountain in England. Its summit is 978 metres above sea level.

Do I need to take a map and compass?

Yes. None of the routes up Scafell Pike are waymarked nor on well-made tracks for the entire way. You will need to be able to navigate to reach the top (and get home again), particularly in anything but perfectly sunny weather. Read our preparation guide to help you have the most enjoyable walk.

When is the best time of year to go?

The summer season in the Lake District is from June to August. The mountain will be snow free from April to May and September to October typically, but the weather is less stable and there may be fog, rain and high winds. Although it's worth remembering that it can still rain in the summer! Through November to March, the weather can be very wet or snowy in colder months. To summit in the height of winter, you may need an ice axe and crampons.

The best way to find out the weather is to check the forecast. There is a dedicated Met Office mountain forecast for the Lake District and a descriptive mountain forecast from MWIS (Mountain Weather Information Service). This is designed specifically for walkers and mountaineers and will help you understand what the weather means for your trip.

What should I bring to climb Scafell Pike?

Can I camp on Scafell Pike?

Wild camping in the Lake District is illegal without the permission of the landowner. The summit of Scafell Pike is rocky and very exposed to wind and weather – we imagine it's an incredibly unpleasant place to spend the night! There is plenty of valley camping at Wasdale, Langdale and Borrowdale, depending on which route you choose.

We reckon it's worth the climb! And not to mention the view towards the head of Wasdale was voted in 2007 as "Britain's favourite view'" - for very good reason. However, make sure you pick a day with sunshine on the weather forecast. Otherwise, you might get to the top and only be able to see a grey wall of cloud.

Is Scafell Pike suitable for children?

If your children are made of sturdy stuff, then yes. It's all about being able to get to the top and back – walking some 20km with 900m of ascent, over rocky ground. That takes an average of at least 6 hours for adults, so your child would need to be able to complete the walk independently or be carried.

How can I climb Scafell Pike safely?

Our Preparation Guide will help you to plan, train and prepare so that your ascent of Scafell Pike is the safest it can be. We also talk about how to deal with an emergency on the mountain. If you are concerned about going alone, you could hire a local mountain guide or join a guided group.