Scafell Pike has been luring hikers to its rocky heights for generations with its historic appeal and breathtaking views. Take a closer look at the fascinating facts, statistics, and rich history of England's highest mountain.
Scafell Pike facts
From the Scafell Pike summit, you can enjoy spectacular panoramic views. On a clear day, you can see other peaks as far away as Wales, Ireland, Scotland, and the Isle of Man. Photos from the summit of Scafell Pike show an incredible view.
Scafell Pike's original name was 'The Pikes of Sca Fell', and this term was used to describe Broad Crag and Ill Crag, as well as Scafell Pike itself. The change was caused by an error on an Ordnance Survey map and stuck. The Scafell Pike OS Map sold today is, however, entirely accurate.
Scafell Pike is home to the highest standing water in England, known as Broad Crag Tarn. It lies at about 820 m (2,700 ft), a quarter of a mile south of the summit.
The National Three Peaks Challenge, which experienced hikers often undertake not only for the thrill but also to raise funds for charity, involves climbing the highest mountains in England, Wales and Scotland – namely Scafell Pike, Snowdon and Ben Nevis.
Four main Scafell Pike routes cater to all levels of expertise. They are from Wasdale Head, Great Langdale, Borrowdale and Eskdale; each following the valleys that carry these names.
Scafell Pike was donated to the National Trust in 1919 by Lord Leconfield. This gesture was made to honour the men of the Lake District who lost their lives fighting for their country in the First World War.
The deepest lake in England lies at the foot of Scafell Pike and is called Wastwater. It measures three miles long, over half a mile wide, and a staggering 258 feet deep.
It is estimated that Scafell Pike was formed more than 450 million years ago and is part of the Borrowdale Volcanic Group of igneous rock formations.
The longest of the famous round trips to the summit and back is the Langdale to Scafell Pike route, which is over 14 miles long and takes approximately 8-9 hours. This is a route only for experienced and fit hikers.
Did you know?
Scafell Pike is part of the Lake District National Park in Cumbria and is the highest point for over 90 miles.
Scafell Pike is the highest mountain in England, measuring 978 m (3,209 ft) high.
The quickest way up to the summit of Scafell Pike is the Wasdale Head route, which takes around 2-3 hours.
Unlike some well-known mountains, there are no buildings or ruins at the top of Scafell Pike, just glorious 360-degree views.
Buy a tee shirt and support the site!
The History of Scafell Pike
Scafell Pike has been attracting walkers up its steep, rocky sides for hundreds of years. With breathtaking views across the Lake District from the summit and a challenging, rocky climb to put even the most seasoned hill walkers to the test, Scafell Pike offers a challenging – but truly rewarding experience!
We delve a little deeper into its fascinating history.
Why 'Scafell Pike'?
If you've been looking up Scafell Pike on a map, you might have noticed several peaks in the region, one of them named – somewhat confusingly – Sca Fell. Scafell Pike and Sca Fell aren't quite the same – in fact, the peak now known as Scafell Pike was originally part of a trio of peaks alongside Ill Crag and Broad Crag. An error in the Ordnance Survey map bestowed the summit with the title – and the name has stuck to date. Scafell Pike is England's highest mountain – standing at 3,210 feet tall. While from some views, the peak looks lower than the neighbouring Sca Fell, it does, in fact, tower 50 feet above it.
Made up of igneous rock, the summit is covered with an extensive boulder field composed of shattered rocks formed through weathering and frost action, providing a tough surface that shouldn't be taken lightly by beginners. Alongside Ben Nevis and Snowdon, Scafell Pike is regarded as part of the National Three Peaks Challenge – an extremely challenging event that involves climbing all three peaks within 24 hours!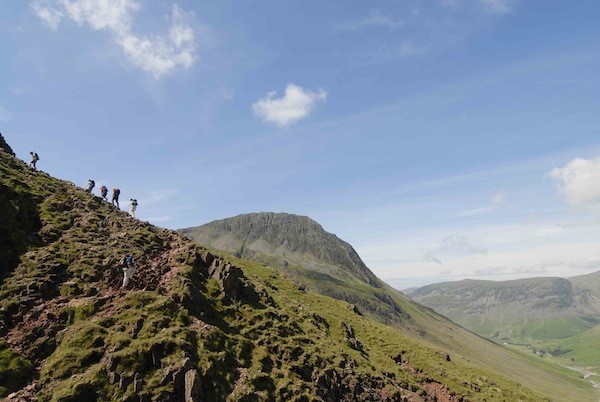 As well as being the tallest summit in England, Scafell Pike also features the highest body of standing water in England, known, slightly confusingly, as Broad Crag Tarn.
The summit is fringed by crags on all sides, which are often popular with rock climbers, and its exceptional height means that it is often subject to extreme weather conditions – you can often expect to find reasonable amounts of snow for much of the year, from October through to May, and high winds all year round. It's always best to check the weather forecast beforehand to ensure you can prepare thoroughly and have the best experience of Scafell Pike.
Famous climbers
People have gone up and down the steep slopes of Scafell Pike for years, but it wasn't considered a worthy climb until much later. Until the 19th century, it was not regarded as a challenge, as its unique geography means that its peak often looks less high than it is.
Until it was measured in the early 1800s, geographers widely held Helvellyn, in the neighbouring Eastern Fells, as the highest mountain in England. The peak was later donated to the National Trust in 1919 by Lord Leconfield in memory of the lives lost by men from the Lake District. Perhaps because of its underestimated history, the first recorded ascent was only made at the start of the 19th century by the noted Romantic poet Samuel Coleridge.
In 1802, Coleridge wrote a letter from the summit, and his climb was soon followed after by the poet Dorothy Wordsworth and, later on, her brother William. Unsurprising, given that the Lake District was a source of inspiration for many Romantic writers – and Scafell Pike, with stunning views across Wastwater and beyond! While many of these early climbers' paths are now well-worn roads, much of the spirit remains in Scafell's windswept heights.
Wildlife on Scafell Pike
Walkers will come across a wide variety of wildlife across Scafell Pike throughout the year, including birds of prey such as buzzards, kestrels and golden eagles.
There are often hardy sheep and mountain goats to be found on the slopes, and walkers with dogs should take care to keep a close eye on them.
During nesting season, between March and July, birds will often be nesting on the ground and dogs must be kept on leads during this period. Although Scafell Pike is certainly a challenging and difficult climb, the dramatic views from its summit present a spectacular reward. While it is always popular with visitors through the year, it still offers a serene and inspiring experience to those that brave its rocky paths!