Hiking can be a fun and rewarding outdoor activity, but it's important to be prepared and act responsibly while out. This guide covers essential topics such as staying safe, what to do in an emergency, responsible hiking and choosing the right hiking equipment.
Preparing to climb Scafell Pike
In advance
Get fit
Even the less demanding Scafell Pike's routes require a decent level of fitness, which is sometimes underestimated. Improving your fitness will reduce the time you need to climb the mountain and make the whole experience more enjoyable. It's hard to appreciate the view when you spend the whole climb staring at your feet, panting.
It is strongly recommended that individuals who are not regular walkers or who do not engage in moderate exercise regularly begin preparing for their hike to Scafell Pike at least 6-8 weeks in advance. During this time, it's a good idea to try and be on your feet and walk more than usual as you go about your day. Also, take long walks, ideally with an incline, a few times a week. This will help to build endurance and stamina, making the climb up Scafell Pike more manageable. After a couple of weeks of this routine, consider adding a weighted backpack to the walk to increase your difficulty level and improve your cardio and muscle strength.
Another option is walking up and down stairs with a weighted backpack. However, this can become repetitive, and motivation to continue might dwindle fast!
Learn navigation skills
There are no significant signposts or coloured waymarkers on Scafell Pike, nor phone signal. At least one person in your group should be competent in using a map and a compass (or consider a led walk from a walking guide), but navigation skills are well worth everyone learning.
At the most basic level, you should be able to relate the map to the ground and take bearings with a compass. These are best learnt by doing an outdoor navigation course and getting lots of practice. Ordnance Survey has put together an excellent YouTube playlist worth looking at as a starting point.
Register for EmergencySMS
Text "register" to 999 and follow the prompts. You'll then be able to text 999 in an emergency - useful for when mobile signal is sparse in availability, and you are struggling to establish or maintain a stable phone call.
In case of emergency, use the emergencySMS service by sending a text message to 999. The message should include the word "Police" followed by a description of the incident and the location.
Pack the right equipment
The views from the summit are some of the best in the UK, and if you achieve the summit, you'll undoubtedly know that you've earned it. To start your hike to the summit, visit our hiking equipment guide for a comprehensive list of everything you'll need for your visit to Scafell Pike.
Download the OS Locate app
OS Locate is a free app that works alongside your Ordnance Survey map to quickly and accurately pinpoint your location anywhere in Great Britain. The app converts GPS readings to National Grid references, which can be used to determine your exact location on an OS map. As it uses GPS, it doesn't need a mobile signal.
You can download the OS Locate app from Ordnance Survey here.
Provide route and schedule details to a loved one
Despite technology like the OS Locate app that can share your location with loved ones, it is essential to leave information about your planned route and expected return time when hiking, especially if you are alone. This can help authorities locate you in case of an emergency. Even simple details can make a big difference for search and rescue teams.
On the day
You'll want to check the weather several times in the run-up to your walk: in the days before, the night before and the morning of your walk – just in case. If there is a sudden change in weather, you can change your route accordingly or even wait for a better day. The things to look out for are rain, cloud level for that summit view and the wind speed and direction. See our dedicated page about Scafell Pike's weather for more information on where to find the forecast, how to read it, and other tips and resources.
What to do in an emergency
No one plans to get rescued. It's very easy to think that emergencies will always happen to someone else. Hopefully, if you're well prepared, you'll never need to call Mountain Rescue. But accidents and mistakes happen, so it's always best to know what to do in an emergency on your ascent of Scafell Pike – just in case.
There are broadly three steps:
When an incident happens, STOP. If you keep moving, you'll only make it harder for rescuers to find you.
Call 999, ask for Police and then Mountain Rescue. Expect to give the operator as detailed information as you can about where you are, what has happened and when. This will help you get rescued faster.
Wait. Stay warm and dry. Stay put. It could take several hours for help to reach you.
It's a good idea to travel as a small group, especially if you are novice hikers, in case someone does get injured.
If you get lost
Don't panic. Stop, sit down, wrap up warm, have a snack and a drink; then get out the map and compass, and take your time thinking calmly and logically about where you may have gone wrong. Can you retrace your steps back to the last point where you knew where you were?
Look around you for landmarks or features which could help pinpoint where you are on the map.
If fellow walkers come along, swallow your pride and don't be afraid to ask for advice.
Using the map, try to devise a logical and safe plan; such as "we know we were travelling roughly south towards the summit, so if we carefully walk north, we should soon reach a point we recognise.
If none of these works for you, and especially if daylight is running short, then it's time to call for help. Call 999 and ask for the police. Be ready to tell them what route you were taking and your last known location.
If there's an injury
First of all, make sure everyone else is safe and calm.
Attend to the casualty, following the 'ABCDE Plan'. That stands for Airway, Breathing, Circulation, Deformities, and Exposure. If you climb Scafell Pike, it's essential that you have a reasonable basic knowledge of first aid. The St John's Ambulance service offer excellent training courses, books, and even apps, all of which you can find on their website.
Think calmly. How bad is the injury? How good are your first aid skills? How confident are you that you can get them safely off the mountain? If you feel you can manage the situation without outside help, then do it.
If you decide the situation is too serious to manage without professional assistance, then call 999 and ask for Mountain Rescue.
If there's no phone signal, and if numbers in your party allow, then leave at least one person with the casualty and send one or two people to get help.
Please visit the Wasdale Mountain Rescue Team website (particularly their advice section) for information on how to prepare for your trip.
Practice responsible hiking
Scafell Pike is part of the Lake District National Park, an area set aside for special protection and attention. It is also the first UK National Park to become a UNESCO World Heritage Site. To help preserve and protect these natural landscapes, it's important that we hike responsibly. In particular, make sure that we cause a minimum human impact on the land.
The best way to show respect for the environment you're in is to practice Leave No Trace principles. This is a very concise way of saying that if someone looked at where you have been, they would not be able to tell that you'd been there – other than perhaps a footprint and some photographs. There should be no trace left on the mountain that you've been there. So make sure to take all of your litter home with you (even the stuff you think is biodegradable). Make sure to leave what you find, be mindful of wildlife and do not light open fires.
There's also respect for other people who are also trying to enjoy a hike or time in nature. You should be considerate of others and try not to make their day worse for you being there. You should also, of course, show respect for any local residents or people working on the land. Remember you are a visitor to their home.
Finally, it would be irresponsible to attempt Scafell Pike without being as fully prepared as you can. That includes bringing appropriate equipment (see the bottom of this page); wearing suitable footwear and clothing; bringing enough food and water; and having both the skills and fitness for your walk. It would also be completely inappropriate to climb Scafell Pike under the influence of drugs or alcohol. By respecting the mountain as a serious undertaking, you are much more likely to have a good day out and avoid needing to be rescued.
Recommended FREE resource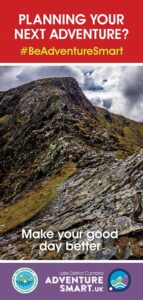 "Stay Safe and Enjoy the Fells" is an essential guide for anyone planning to explore the outdoors in the Lake District and Cumbria. Created by LDSAMRA in partnership with Cicerone and Adventure Smart, it provides valuable information and advice on making safe choices while in the hills. It's highly recommended that you download or pick up a printed copy from various regional outlets and keep it in your rucksack for easy access.