Difficulty
Strenuousness:

2 (Short day)

Navigation:

3

Technicality:

4
Info
Terrain:

Rough and rocky ground, grassy hillsides, bog and occasional exposure

Time:

4.5 hours

Distance:

9km /  6 miles

Total Ascent:

900m

Starting Point:

Wasdale Head

Nearest Town:

Wasdale

Public Transport:

Very difficult. The closest train station is Seascale. You may be able to get a taxi but there is no regular bus service.
Maps
Correct as of 2022-03-10 at 00:33 / Images from Amazon Product Advertising API. We might receive a small commission for any purchases through links on this page, with no extra cost to you.
No route up Scafell Pike is easy, but the climb from Wasdale is the most direct and the shortest. Although that does mean you're walking uphill from your first step, right up to the top!
Park at the Wasdale Head car park (OS ref: NY187085) and set off south-east along the public footpath across the valley floor to the footbridge (OS ref: NY189082) which crosses Lingmell Beck.
From the footbridge, follow the path southwards, climbing diagonally up the hillside until joining the main path up Lingmell Gill (OS ref: NY192074). Follow the path up (west) alongside Lingmell Gill for just over a kilometre until it splits (OS ref: NY203074) at an area known as Hollow Stones.
From here, take the left-hand path south-west, climbing steeply up towards Lingmell Col. The craggy mass of Scafell Pike will be rising on your right as you climb. From Lingmell Col (OS ref: NY210077), turn off the well-made path and head right (south) up Scafell Pike. Take the shallowest route between two crags, marked by cairns.
The path curves round to your left and finally reaches the boulder-strewn plateau at the summit of Scafell Pike, marked by a large cairn and trig point (OS ref: NY215073). You've reached Scafell Pike from Wasdale, give yourself a moment to take in the magnificent views and tranquillity.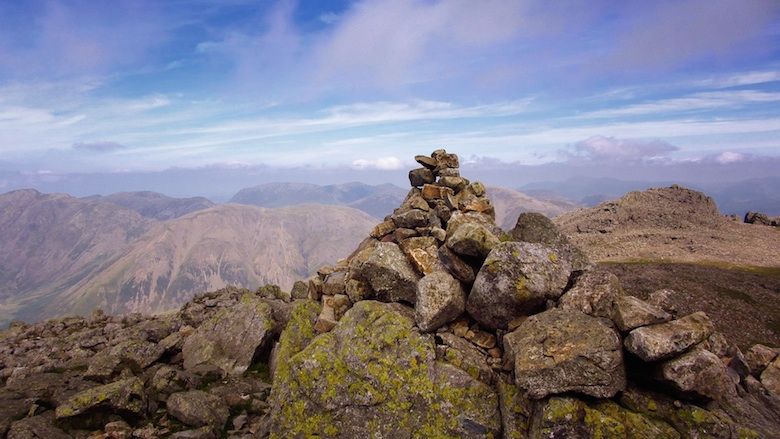 From the summit, retrace your steps, following the path with its line of cairns to the north-west, descending slowly at first, then more steeply down towards Lingmell Col.
Follow the track downhill and west, back into Wasdale valley and where you started your walk. Although another mile along the valley floor to your north is the Wasdale Head Inn (OS ref: NY186088) – a well-earned refreshment stop might be in order.