Difficulty
Strenuousness:

4 (Very full day)

Navigation:

3

Technicality:

4
Info
Terrain:

Rough rocky ground, grassy hillside, bogs and occasional exposure

Time:

approx. 8 hours

Distance:

18km / 12 miles total

Total Ascent:

1400m

Starting Point:

Old Dungeon Ghyll Hotel

Nearest Town:

Elterwater

Public Transport:

Langdale Rambler Bus 516 Kendal - Windermere - Ambleside - Dungeon Ghyll
Maps
Correct as of 2022-03-10 at 00:33 / Images from Amazon Product Advertising API. We might receive a small commission for any purchases through links on this page, with no extra cost to you.
A full day out in the mountains, starting and finishing in the Langdale valley. This route takes in several other peaks as well as Scafell Pike.
Park in the pay and display car park next to the Old Dungeon Ghyll Hotel (OS ref: NY287061) and take the farm track across the fields to Stool End Farm (OS ref: NY277057).
Follow public footpath signs through the farmyard and, after a hundred metres, take the right-hand path. This path climbs steeply at first, then more steadily, up The Band – the great shoulder which reaches out from Bow Fell into the Langdale Valley.
A long continual climb, with views directly across the valley of Oxendale to Crinkle Crags, eventually brings you to a convenient resting point at Three Tarns, the col between Crinkle Crags and Bow Fell (OS ref: NY248061).
Next, head due north, and steeply upwards, following the well-trodden rocky path marked by frequent cairns to the summit of Bow Fell (OS ref: NY244064). There is a magnificent view across the head of the Eskdale Valley far below and across to Scafell Pike itself. On a clear day, you can often make out tiny people on the distant summit.
From Bow Fell, follow the main path northwards to Hanging Knotts (OS ref: NY244072) and then westwards to the summit of Esk Pike (OS ref: NY236075), before descending to Esk Hause (OS ref: NY233081).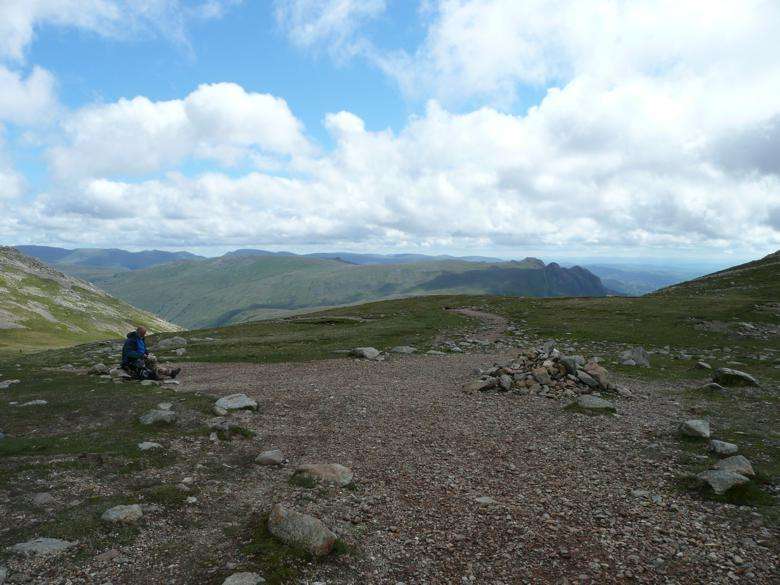 From Esk Hause, continue to the summit of Scafell Pike as per the route from Borrowdale. From the summit, retrace the route back as far as Esk Hause again. But, instead of starting the grind back up to Esk Pike and Bow Fell, descend north-eastwards from Esk Hause for about 300 metres to meet the main Sty Head to Langdale path at OS ref: NY235083.
Follow this well-defined and maintained path south-east as it drops down to delightful Angle Tarn (OS ref: NY245078), nestling below the imposing fortress of Hanging Knotts.
Continue in a south-easterly direction, with a short climb to begin and then a steep descent as the path drops down alongside the tumbling waterfalls of Rossett Gill before joining the bridleway along Mickleden (OS ref: NY262073), from where a final steady and level stride returns you to the Old Dungeon Ghyll Hotel with its world-famous rustic and welcoming Climbers Bar.