Equipment Guide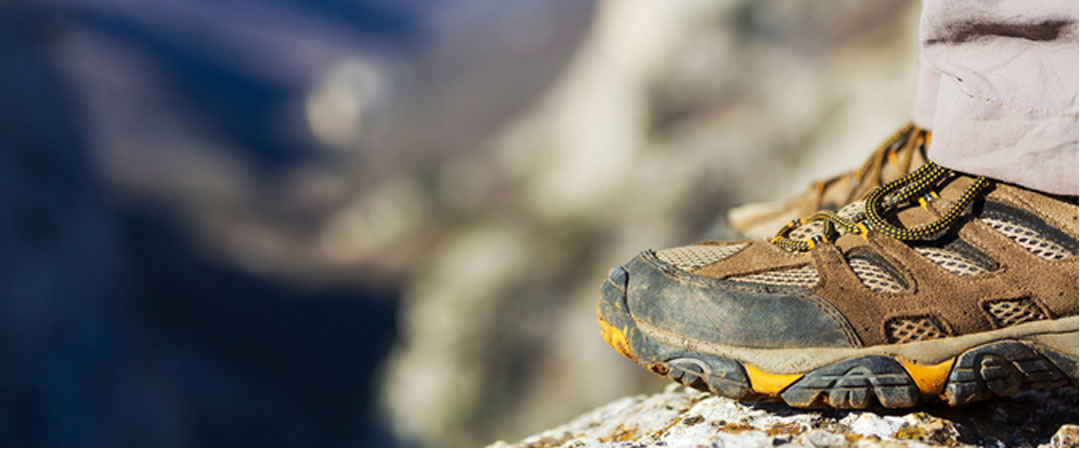 Ideally, what you will be taking with you on your Scafell Pike walk are the items which will prevent you getting into trouble – or help you to get out of it.
It's essential that anyone deciding to climb Scafell Pike has all the appropriate clothing and equipment.
Regular walkers will probably already have most, if not all, of the necessary equipment; but for those with less experience, the recommendations below will provide a useful guide.
The two most important factors to consider when choosing equipment are COMFORT and SAFETY.
Good quality, comfortable clothing and footwear will significantly increase your enjoyment of the walk up Scafell Pike, and contribute a great deal to making the challenge easier.
Taking the appropriate safety equipment with you will help avoid getting into difficulties in the first place, as well as making it easier to get out of trouble if misfortune does strike.
The summit of Scafell Pike is very rough terrain; a mass of boulders and crevices where, with the wrong footwear, a twisted ankle is a real threat; so good quality walking boots are essential, even in perfect sunny weather.
When choosing walking boots, the key points to consider are:
General comfort – when trying on boots, walk around in them enough to be sure no part of the boot rubs or pinches. Even the slightest discomfort felt in the shop will be magnified many times over after ten miles in the hills!
Ankle Support – the boot needs to be high enough that it covers most, if not all, of the ankle joint. This will provide the protection needed to avoid a painful twist if you accidentally misplace your footing.
Sturdy Sole – the sole of the boot needs to be thick enough that you can't feel small rocks and so on as you walk over them, and it's also important that the sole has a good rugged grip.
For these reasons, although you can certainly buy walking boots online, it is strongly recommended that you visit a specialist shop with trained staff who can assist and advise you.
Another key factor in making your Scafell Pike walk enjoyable is your choice of clothing.
When choosing clothing, you should consider:
Comfort – don't wear anything which can rub or chafe, and definitely not jeans (which are terrible for chafing, and become horribly heavy and clinging if they get wet, which can quickly lead to hypothermia). Socks are very important of course, and it is well worth paying a little extra for really good quality.
Temperature Regulation – even if you set off in t-shirt weather, there could easily be a bitter wind-chill at the summit. Several thin layers are therefore always the best option, wearing one or two layers to begin with (depending on weather and time of year), and with a spare layer in your rucksack.
Weather Protection – your two key enemies are wind-chill and rain. So good quality, breathable waterproof jacket and trousers are a must. In fine weather with a good forecast, take lightweight waterproofs which can be packed in your rucksack without taking up too much space. In less clement weather, a more robust jacket will provide far superior protection from the elements.
Rucksack
You're going to need a rucksack to carry things with you up Scafell Pike. When choosing a rucksack, it's important that it's big enough to carry all your essentials, and for this reason we recommend a minimum capacity of 25 litres. The other important thing is that it's comfortable to wear! So if at all possible, try it on before you buy it, and fill it with around the same weight and volume that you'll be carrying up Scafell Pike. We suggest that you either purchase from a shop, or buy it in advance of your trip in case you need to return it.
Here are some top picks: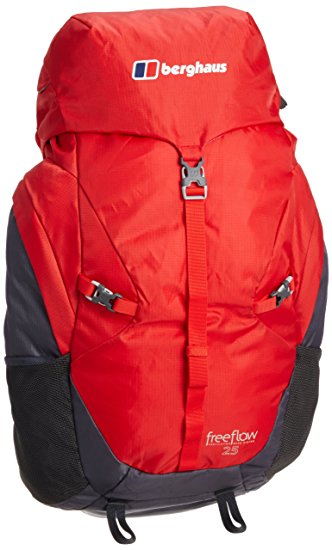 Berghaus Freeflow 25 Rucksack
These bags are robust, and built for comfort, and is an ideal purchase if you are looking for something that will last. It's not the biggest rucksack on the market, but is probably fine taking the essentials up Scafell Pike.
The 'Freeflow' product name refers to the back system that reduces contact between the bag and your back, allowing for a nice flow of air.
Read more on Amazon.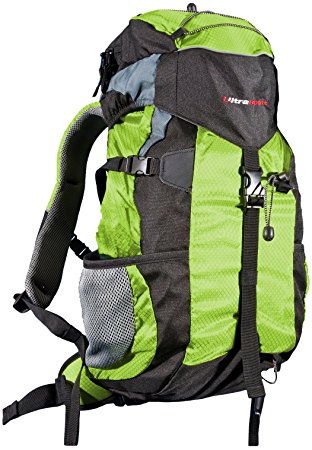 Ultrasport Backpack with Rain Cover
The Ultrasport bag is a bit of a more budget friendly option and might suit a novice hiker who doesn't want to invest a lot initially. It has an array of features such as a rain cover and loops to hold your trekking poles. This model starts at 25 litres, but you can also choose up to 60.
Read more on Amazon.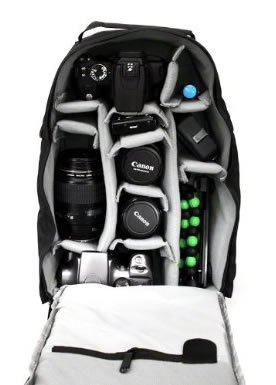 7 Day Shop Photographer's Bag
This bag is ideal for specialist hikers, who needs to carry a lot of camera kit up the mountain. It doesn't leave a lot of room for much else, so is perhaps recommended for hikers embarking on easier routes, and probably with other people who have large backpacks for other essentials.
Read the detailed specification on Amazon.
Here are some further walking equipment essentials that we suggest you'll need for your climb.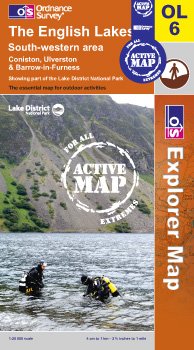 Ordnance Survey OL6 Mapulttra
You'll need an Ordnance Survey 'Explorer' Map of the Scafell Pike area. These maps are at a scale of 1:25000, which offers far more detail than the 'Landranger' maps with their 1:50000 scale.
It's available on Amazon. Click here to get one.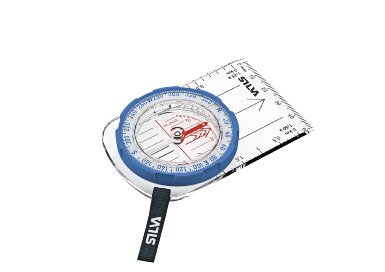 Compass
You'll also need a good quality compass, and most important of all, you need to know how to use them! There are many sources of training in map and compass use, and it's important to both learn and practise before you set out to climb Scafell Pike.
Click here to see the Silva Field Compass on Amazon.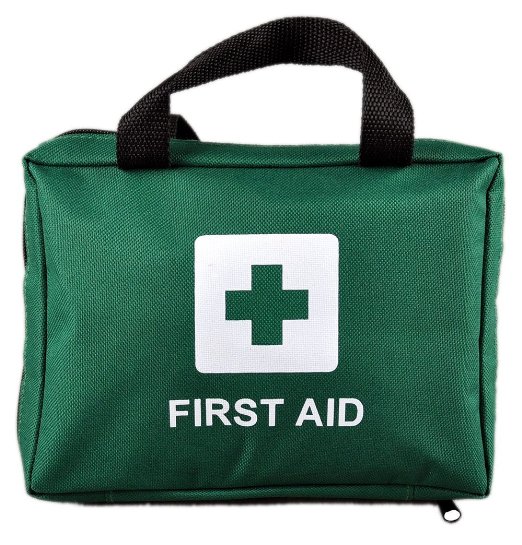 First Aid Kit
Light and compact First Aid Kits containing all the essentials you will need are easily available both online and in outdoor shops.
This particular first aid kit is well reviewed, offering ice packs, eye wash and an emergency blanket. Covering all occasions.
Click here to see on Amazon.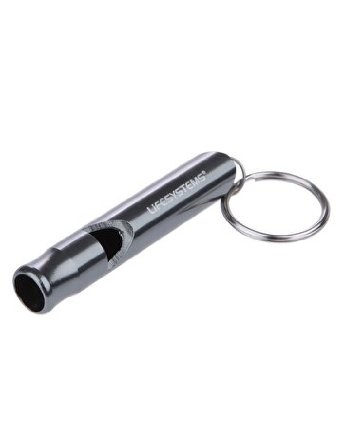 Whistle
Perhaps overlooked by some. A small, lightweight whistle takes no space at all, and can make all the difference should you be unlucky enough to need to summon help.
Used by lots of hikers, and is rated highly, and certainly is classed as an 'essential'.
Click here to see it on Amazon.
While these are certainly not classed as essentials, they might suit technology enthusiasts, and might enhance your climb. Of course, it goes without saying that you shouldn't rely on technology for navigation, and you should fully equip yourself with a good map (mentioned above), and compass (again, mentioned above).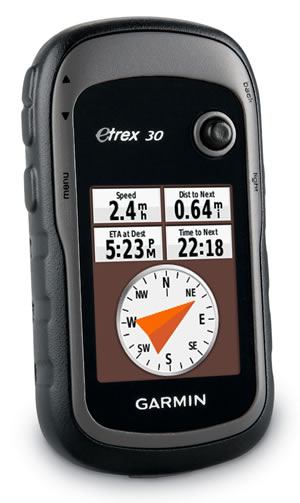 Garmin eTrex 30 Handheld GPS
From our research, this handheld GPS looks to have a broad feature set, and great durability, using GPS and Russian 'GLONASS' (or 'Globalnaya navigatsionnaya sputnikovaya sistema'!) satellites to pinpoint your location accurately and quickly.
It also supports paperless GeoCaching. While we feel this might detract from the fun of finding and uncovering the actual cache (perhaps), the point of GeoCaching is to have fun exploring, and this makes it quicker and easier to do so.
You can also download an Ordnance Survey map to the device, and a free download voucher is included with your purchase.
Click here to see on Amazon.
Mobile Phone
Having a mobile with you makes sense as it enables you to call for help in an emergency, or just to let family and friends know if you are simply running a little over-schedule. However, on no account should you ever rely on a mobile phone for navigating or even making calls while on Scafell Pike (or any other mountain, for that matter!)! Their GPS accuracy is often unreliable, the phone signal might be non existent; and if you drop and break the phone, if it's battery runs out, or it gets soaked by rain – then you're in trouble. Take one with you, but DON'T rely on it.
Food and Drink
As with any physical activity, climbing Scafell Pike is going to burn a lot of calories. So you'll need food (high energy snacks as well as sandwiches) to maintain energy levels, as well as plenty to drink to keep you properly hydrated. Some people just take water, whilst others prefer one of the many Sports Energy Drinks available. Whatever you choose, the most important thing is to take plenty of it.