There is nothing better than getting out and exploring the great British outdoors on a summer's afternoon, or going all out and escaping for a long weekend. As all hill walkers know, the best panoramas are only available if you put in a bit of effort, and the view from the top of Scafell Pike has to be experienced to be believed. For gentle hillwalking, a stout pair of shoes and awaterproof jacket is all that you need, but if you are thinking of doing more strenuous hiking, or going off up into the hills for a longer period, things can start to get expensive.Hiking doesn't have to cost the earth though, and it is entirely possible to go hiking on a budget.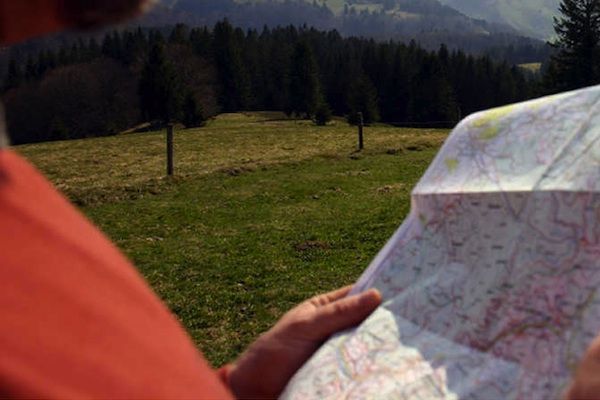 It's very easy to walk into any of the large outdoors and camping shops, or to browse online and be dazzled by the array of products and the sophisticated materials they are constructed with. But do you really need a sleeping bag which will keep you warm in temperatures of -25C for a spot of hiking in the Lake District in June? Probably not, but it's easy to fall into the trap of thinking that because something is designed for the professionals, or has been used on countless expeditions to Everest that it is intrinsically "better" than something designed to come up to less rigorous standards. If all you are ever going to do is fair weather hiking in the summer in the UK, then buy your equipment accordingly and save yourself considerable sums in the process. Take a look at ourequipment guide, helping you to pack the right gear!
The one thing which it is never wise to scrimp on is a pair of hiking boots. Again do not fall into the trap of thinking that the most expensive boots are necessarily the best ones. It is far more important to try on lots of different pairs of boots and buy the ones which fit you best and which are the most comfortable, as ill-fitting boots, however expensive, will cause blisters and pain. Seek professional advice about the sorts of boots you will need depending on the sort of hiking you are planning on doing and try to cut costs further by making a list of your favourite brands and styles, and keeping an eye open for sales and offers to cut the costs further. A great way to save on the cost of decent boots is to try on in store then buy online. We've selected some here that might be of interest.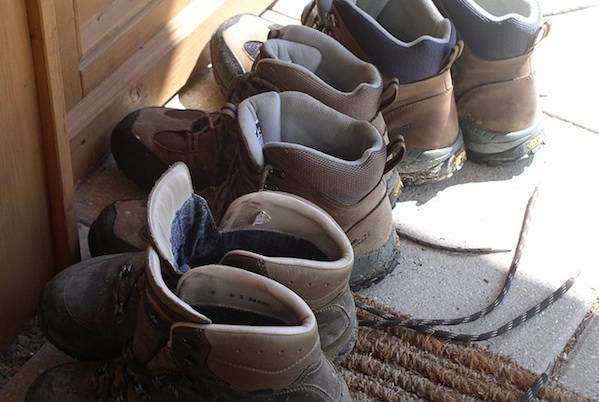 The golden rule when walking and hiking in the UK is layering. A super-fancy and thick jacket is all well and good, but if you only have that and a t-shirt, you are likely to be either boiling hot or freezing cold with no happy medium. Experienced hikers layer up clothing so they can remove and add it when required, and again, this does not need to be ultra-expensive and high performance clothing. Cotton base layers, fleece, a soft shell jacket and a waterproof top layer is probably all you need, and as well as the premium brands from the well-known outdoors manufacturers, this sort of clothing is widely available in larger supermarkets and sports shops. When buying a jacket, make sure it is truly waterproof rather than just shower proof, as there is nothing worse than getting soaked to the skin.
You're going to need a backpack to carry all of your equipment in when you're out hiking but don't get carried away and buy one much bigger than you will need. If you're not planning on camping out overnight, you really only need a smaller rucksack to carry extra clothing and a few other bits and pieces, but if you are carrying a tent, sleeping bag and cooking equipment, you'll need something bigger and sturdier. Here are our recommendations, all available online. It's also worth investing in a waterproof covering or added cover for your rucksack to keep the contents dry. Soggy Kendal mint cake isn't a gourmet experience many hikers would care to repeat.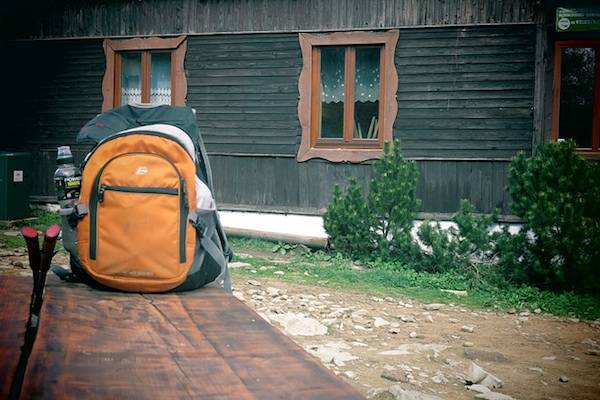 There are endless gadgets which are sold for hikers, and many are incredibly expensive. If you have solid map-reading skills and know how to use a compass, you probably don't need a pricey GPS unit, which might well tell your latitude and longitude, but won't tell you how to get off the mountain safely.
Gadgets which are worth investing in are a good quality, lightweight torch, a solar charger for your mobile and some sort of multi-tool or Swiss Army Knife. The most important "gadget" is actually a simple map – if you lose signal on a GPS, make sure you have one. Maps of Scafell Pike can be picked up, for around £5.
Is it possible to go hiking on a budget?
Yes it really is, these days there are so many savings to be had at specialist shops if you shop at the right time. There are also almost always discounts when buying online, so pop to the shops then buy at your leisure online.
Be sure not to scrimp on the essentials, saving £20 isn't worth risking your safety, so shop savvy!