Families Visiting Scafell Pike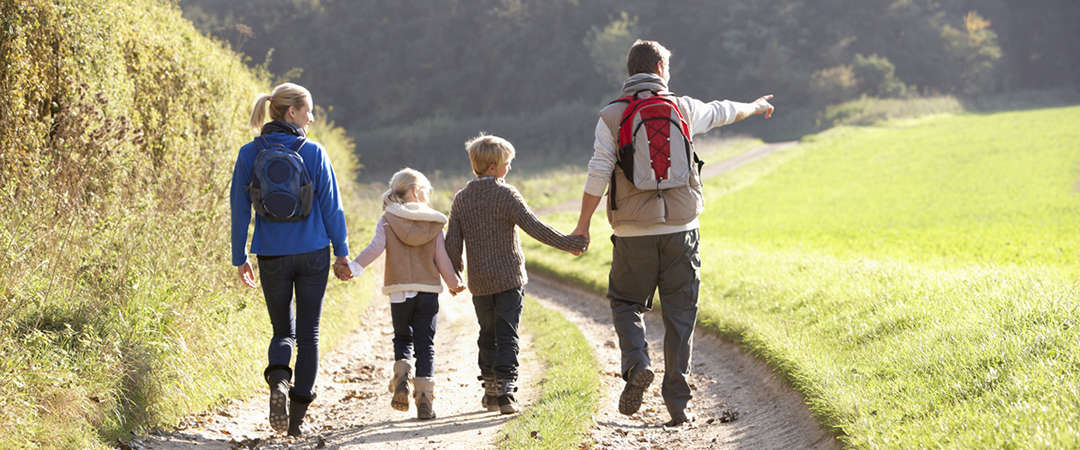 While Scafell Pike is not to be underestimated there are a number of routes to the Scafell Pike summit and with forward planning and the correct equipment there is no reason why a Scafell Pike walk can't be a thoroughly enjoyable family affair.
When visiting Scafell Pike as a family it is important to be more flexible with plans as for children the journey and exploration of the area is more important than achieving a set goal. Despite this thousands of families each year enjoy a trip to the area and take part in walks, nature activities, camping and more.
Climbing with children is entirely different to going on a serious hiking expedition with experienced climbers and hikers. Extra provision must be made for adequate rest breaks, nutrition, hydration and of course safety.  Ensure when planning a family trip that you check the route carefully and have the correct equipment with you.
There are various pieces of equipment needed when hiking with children and these vary somewhat to the equipment needed by those tackling the more challenging routes. At the minimum the following should be packed or worn:
Adequate sturdy waterproof hiking boots with good grips and ankle support
Thick socks, preferably woollen for comfort and protection when hiking in colder weather
A Scafell Pike map of the chosen route encased in a waterproof cover
A working compass (and knowledge of how to use it correctly)
An emergency bag including a good first aid kit, a head-torch or similar, a whistle (essential if Scafell Pike Mountain Rescue are looking for you), windproof matches and depending on how far from base you aim to travel, an easy to put up shelter / tent.
Food and drink rations
Sun protection or cold weather protection dependant on the season. It is essential that hikers check the Scafell Pike weather reports prior to setting out.
There are many routes to the summit however they vary in difficulty and length. The route from Wasdale Head is the shortest route to the summit however the Corridor Route from Borrowdale via Styhead Tarn is not too much longer yet has a significantly gentler ascent.
All routes vary however the ground around Scafell is littered with boulders and rocks to go around and in some case climb over. Bear this in mind when planning a trip.
The trek to the summit of Scafell peak takes a minimum of two to three hours for a competent and experienced adult hiker. For children who need to take regular breaks, require carrying or help climbing over rubble this time will be extended. Common sense plays a part in hiking and while the whole family are able to enjoy their time at Scafell it is essential that appropriate goals are set and safety measures considered when taking younger children.
Many families choose to camp nearby to the Scafell Pike parking area at the beginning of the hike when visiting and there are a wide range of camping and caravan sites to choose from. One of the closest to the beginning of the hike is Wasdale Head Campsite which offers showers, a shop and a nearby pub which serves food. There is plenty of accommodation near Scafell Pike available however it is important to book in advance.
A trip to Scafell Pike is a wonderful experience for people of any age, being an area of natural beauty, a great place for those who enjoy exploring or learning about nature and wish to take Scafell Pike photos and of course hiking. With proper safety planning in advance there is no reason why a visit to Scafell Pike shouldn't be thoroughly enjoyed by the whole family.