Mountain biking across the open scenery of the Lake District, past the silver tarns, over the rocky paths and rugged ground with the sun on your face and the wind on your back, is not an opportunity to be missed.
Often with many of these tracks and routes, you will be out in the middle of the fells by yourself or with a few friends and whatever other supplies you can carry in a smallrucksack. This sense of remoteness and majestic scenery are probably the exact reasons that you have chosen to come here in the first place, but these are also the exact factors that make it difficult to rescue you if you get hurt. Good research of the routes that you wish to attempt is a vital necessity! But, you must also make sure that when you do go riding, you employ the necessity of pushing yourself until the thrill of speed overcomes the fear of injury, and then the landscape will really open up to you.
Esk Hause is a great place to start for Mountain biking around Scafell Pike.  This is a mountain pass that sits at the crossroads of Borrowdale, Eskdale, Langdale and Wasdale. Esk Hause is the highest pass in the Lake District, although Sticks pass is often incorrectly awarded this title. This is because there are two mountain passes close together that are both known as Esk Hause, and the higher of the two is lesser known. Walkers generally use this point to continue up to the summits of Scafell Pike, Great End, Esk Pike and Allen Crags. A great descent on your bike from this point is to head past Sprinkling Tarn, down to Styhead Tarn and on to Stockley Bridge. This ride offers expansive views and rough, challenging ground with plenty of scope for alternative pathways and routes.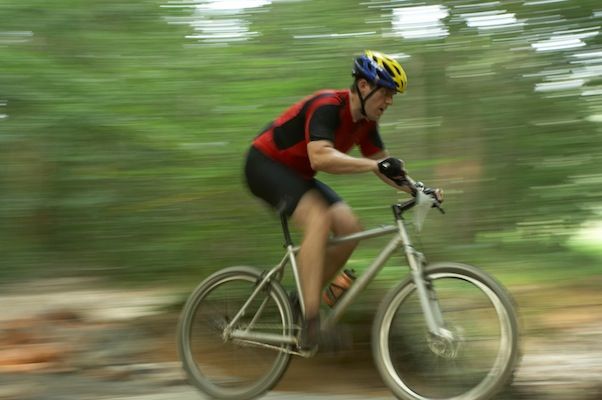 At Styhead Tarn it also is possible to descend to Wasdale or Seathwaite, both being testing and adventurous routes. The Tarn itself contains brown trout, and although it is unlikely that you will have a fishing rod handy on a mountain biking trip, it is possible to fish here. The route also reveals the commanding views over Borrowdale that you will be able to witness. The track from Esk Hause to the top of Rossett Ghyll is another pathway that is good for riding, and it has a well-surfaced path.  As the track switches back down Rosett Ghyll it becomes much more challenging, but can be a lot of fun if you trust your own abilities. The track that descends from Stakes Pass to Langdale is also definitely worth a mention. The land up here is wild and rugged, and so is the route.  You are much less likely to meet many other mountain bikers, and it is perfect if you are motivated to head out into the hardy charm of the English Lakes and aim to move faster than a slow walking pace.
A good way to experience the surrounding area is to pick one of the looping tracks that travel through the nearby Langdale valleys. There are a wide variety of tracks to suit all abilities here, from old quarry and ancient packhorse routes, through to surfaced tarmac roads and single-track bridleways. This makes Langdale a great area to explore by bike, regardless of age, experience, time frame or group demographic. A decent exploration of both valleys could take as long as you wanted it to. I recommend a 3 – 4 hour circular ride, beginning and ending in Stickle Ghyll Carpark, as this provides a decent insight into this old slate and Neolithic stone axe producing area. The rough route begins with the tarmac ascent to Blea Tarn, giving you views of the valley and a decent altitude to descend from. It also gets the toughest part over and done with at the beginning! Follow the little Langdale road and turn right at the t-junction. A left in 250m leads you onto the track to begin the rest of the route. You must navigate across Greenburn beck and along the main track past Low Garth Hall. Next, find your way across the River Brathay, along the track to Dale end. Head towards Elderwater and the conditions get much rougher, steeper and more fun. The route travels past Baysbrown and joins the bridleway, offering more technical riding and the odd rock and boulder.  Follow this bridleway until Oak Howe, and beyond that to Great Langdale Beck before a short climb to the valley road. From here it's only a short ride back to Stickle Ghyll Car Park. The whole route covers 9.5 miles of tarmac, track and bridleway and is an excellent way of discovering these roughly hewn yet scenic and atmospheric valleys.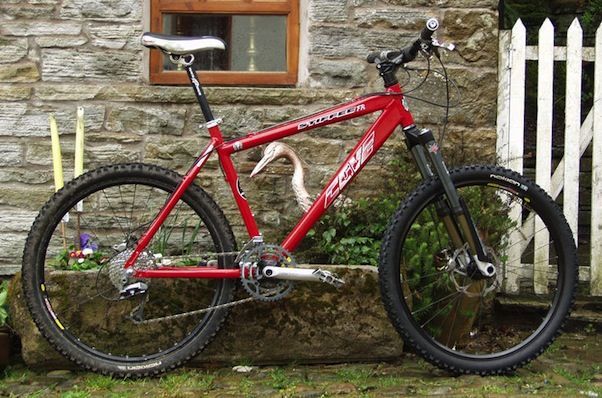 For a serious challenge, the nearby Hardknott Pass is worth a shot if you are feeling foolhardy. Although the route is tarmac, the road is a difficult fitness test to overcome.  Travel on the minor tarmac road between Eskdale and the Duddon Valley and you will find a punishing climb, and of course the well deserved reward of the descent. The road approaching the pass is the steepest in England, although Chimney Bank in North Yorkshire also vies for this accolade. Some sections have a gradient of almost 20 degrees, but ignore the lactic acid, and the viewpoints on a clear day will allow you to see as far as the Isle of Man.